W maju inflacja przyspieszyła z 12,4 do 13,9 proc. rok do roku. Był to prawdopodobnie jej ostatni tak duży skok, co nie oznacza, że wkrótce wzrost cen zacznie hamować. Pozostanie wysoki do końca br. i to pomimo spowolnienia wzrostu gospodarczego.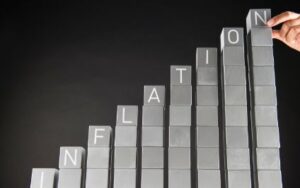 Jak obliczył wstępnie GUS, wskaźnik cen konsumpcyjnych (CPI), główna miara inflacji w Polsce, wzrósł w maju o 13,9 proc. rok do roku, najbardziej od 1996 r. Wynik ten okazał się zbieżny z przeciętnymi szacunkami ekonomistów ankietowanych przez "Parkiet". To jeden z powodów, aby sądzić, że wzrost cen zaczyna tracić impet.
Począwszy od lipca 2021 r., inflacja stale przebijała bowiem oczekiwania większości ekonomistów, a niekiedy nawet skrajne prognozy. Działo się tak, choć analitycy brali pod uwagę poprzednie niespodzianki i korygowali swoje przewidywania w górę względem tego, co podpowiadały modele prognostyczne. Nawet jeśli GUS zrewiduje jeszcze swój wstępny szacunek tak jak dwa poprzednie (o 0,1 pkt proc.), to wynik i tak będzie niższy od najbardziej pesymistycznych przewidywań.
Źródło: Parkiet, https://www.parkiet.com/prognozy-gospodarcze/art36419741-inflacja-zbliza-sie-do-szczytu-wzrost-pkb-rusza-w-kierunku-dna